Dr. Renuka Badhe
Dr. Renuka Badhe currently serves as the Executive Secretary of the European Polar Board, and is based in the Netherlands. Her background is in economics and public policy, and she holds a PhD on southern ocean phytoplankton physiology. Renuka has worked with a range of international organisations on various aspects of polar science, policy and/or strategy development. She has worked both in the Antarctic and Arctic regions, and works towards ensuring that there is a voice for members of underrepresented minorities, both through a gender and geographical perspective. Her current responsibilities include serving as a Chair of EU-PolarNet project's External Expert Advisory Board, and service on many national and international committees. She is particularly interested in promoting polar research to a wide audience using a variety of traditional and non-traditional communication tools, and projects looking at the interface between governance, science, and policy in the polar regions.
Dr. Karen Barnes
Dr. Karen Barnes has been the President of Yukon College in Whitehorse, Yukon since 2011. Prior to her appointment as President, Dr. Barnes served as Yukon College's Vice President of Education and Training and as such was responsible for establishing the Centre for Northern Innovation in Mining. Previously, she served as the Dean of Applied Arts and Science at Lethbridge College for six years. Currently Dr. Barnes chairs the governing committees for the Yukon Research Centre and the Northern Institute of Social Justice. Much of Dr. Barnes' career has been devoted to issues of access and retention for marginalized communities. She co-chaired the CICan committee that developed the Indigenous Protocol for Canadian colleges and institutes. Since coming north, she continues to work closely with the other two territorial colleges in support of seeking pan-territorial solutions to research and education. Dr. Barnes holds a BA and a Professional After Degree in Education from the University of British Columbia, and a M.Ed (Adult Education) and a Doctorate in Education (Policy Studies) from the University of Alberta.
Eva Biaudet
Eva Biaudet is a well-known human rights activist in Finland. She is a Member of Parliament and a former Minister of Social Services and Health, as well as Minister of Gender. Having returned for her fifth term in Parliament, in May 2015, she has taken seat as vice chair of the Legal Committee, membership in the Grand Committee handling European Affairs, as well as chair of the informal human rights network of MP:s. She is also now chairing the Party Council. In between, she served as diplomat in Vienna, as the OSCE Special Representative Combating Human Trafficking, working with 57 countries. After her time in Vienna, she continued working in the sphere of promoting Human Rights, as Ombudsperson for Minorities and later Non-Discrimination Ombudsman. She was the Swedish Peoples Party Candidate in the national Presidential elections in 2012. Since 2015, Eva Biaudet has served as president of the National Council of Women of Finland, an umbrella organisation for 58 women's organisations. She is also involved in many NGOs working on enhancing democracy, anti-racism and children's rights.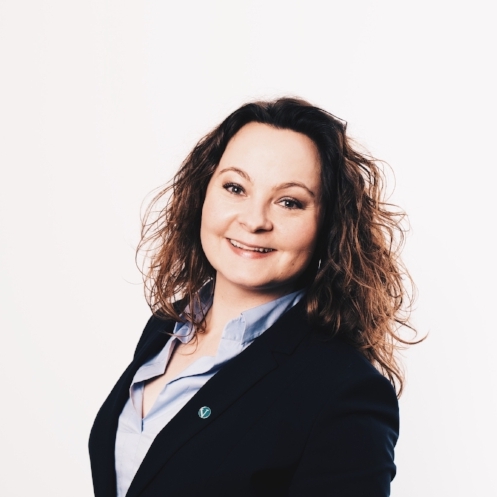 Rebekka Borsch
Rebekka Borsch works as the State Secretary of the Ministry of Education and Research of Norway. She has been politically active for ten years, and currently chairs the International Committee of Venstre (the Liberal Party in Norway) while also sitting on the board member of Venstre. Borsch is a journalist and political scientist by education. In her previous position, she was a senior adviser to Norwegian Environment Agency for seven years. Prior to her political career, Borsch worked as a journalist. Her professional interests include environmental protection, climate and European politics.
Dr. Kjersti Busch
Dr. Kjersti Eline T. Busch is one of the founders and the CEO of SALT. She started SALT together with her co-founder Kriss Rokkan Iversen in 2010. Today the company has close to 20 highly educated staff, working from offices in the Lofoten islands in Northern Norway and in small offices in other Norwegian regions. Realizing the great opportunities in the Arctic region, with an emphasis on the marine environment, is SALTs core mission. One of the great motivators for Kjersti Eline T. Busch is to create knowledge based jobs in the Arctic region – preferably in the coastal communities.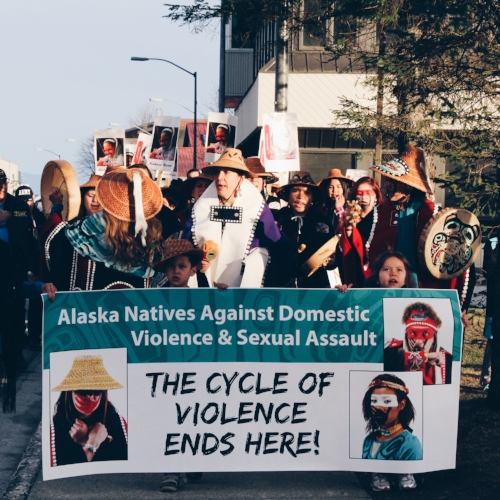 Michelle Demmert
Michelle Demmert, Tlingit, Eagle, Ḵaax̱'oos.hittaan clan is a current elected delegate for the Central Council Tlingit and Haida Indian Tribes of Alaska, and their elected Chief Justice for their Supreme Court. She has worked in various capacities of advancing domestic violence protections for women and children. She holds the position of Law & Policy Consultant for the Alaska Native Women's Resource Center and works to improve local, state and federal laws and policies. She is also the Chief Judge at the Chehalis Tribe and was their Presiding Judge previously for over 10 years, where she assisted with amending their DV code that provided greater protections for women and children, as well as developing a court process that holistically addressed all participants. Judge Demmert worked in the Reservation Attorney's office for the Tulalip Tribes for nearly 10 years. While there, she was the primary author of their complete revision of the Domestic Violence code, which includes provisions for exercising Special Domestic Violence Court Jurisdiction (SDVCJ). She has provided testimony during the Office of Violence against Women's (OVW) annual consultation on behalf of the Tulalip Tribes, as well as the Tlingit & Haida's Chief Justice to bring awareness to Alaska specific issues. Judge Demmert has significant tribal court experience having worked at various positions at the Northwest Intertribal Court System, including Chief Judge and Administrator. She is currently assisting tribes in SE Alaska with establishing or building their court systems. Judge Demmert is a graduate of the University of Washington for both her law degree and her BA in Psychology. Michelle actively engaged in the Alaska commercial fishing industry prior to her practice of law.
Susan R. Eaton
A geoscientist, journalist and conservationist, Susan R. Eaton studies the interplay of plate tectonics, oceans, glaciers, climate and life in polar regions. A Fellow of the Royal Canadian Geographical Society, Susan explores the world's oceans—from Antarctica to the Arctic—in the snorkel zone, a unique land-sea-ice-air interface where charismatic animals and snorkelers comingle. In 2018, Ocean Geographic named Susan one of the "Ocean's Best" 18 most influential women leaders in ocean conservation. In 2015, the Royal Canadian Geographical Society named Susan one of Canada's top 100 modern-day explorers and trailblazers. A year later, the same organization named her one of Canada's 25 greatest female explorers. Susan is the founder and leader of the multi-year Sedna Epic Expedition, which is comprised of women ocean explorers, scientists, artists, educators and scuba divers from around the world. Founded in 2014, the Sedna Epic's sea women scout, document and record disappearing sea ice in the Arctic. In consultation with Inuit team members and Inuit advisors, Team Sedna delivers hands-on, ocean knowledge mobilization programs to Inuit youth, girls and Elders in Labrador, Nunavut and Greenland. To date, Susan has led three all-women dive and snorkel expeditions to the Arctic. Passionate about protecting Canada's endangered ecosystems and the animals who call them home, Susan currently sits on the board of directors of Nature Canada, a not-for-profit organization whose mandate is protecting parks and wildlife areas and creating citizen science and urban nature initiatives. She holds a B. Sc. Hon. degree in geology and biology from Dalhousie University and a M.Sc. in petroleum geology (geophysics specialization) from Imperial College, University of London. Equipped with a B. J. Hon. degree from Carleton University's School of Journalism, Susan began her media career in as an on-camera news reporter with CBC-TV. Today, as a freelance writer, she reports on science and technology, business, energy, the environment, space, geotourism and adventure travel.
Louise Fontain
Louise Fontain is a Greenlandic storyteller living in the South Saami Community in Northern Norway. Her artwork is based around native peoples´struggles and the influences inherited by Western Colonialism in modern times. She has been working with Photography and performances about identity and belongings on the one side and acknowlegment and reconciliation on the other side. Since 2012 she has been collaborating with Katarzyna Pastuszak and the Polish theater group Amareya Theater in the piece Nomadic Woman. "NOMADIC WOMAN" was presented in various festivals in Poland and abroad. It was especially important for Louise Fontain to be able to perform it in her homeland context - Greenland (National Theatre of Greenland in Nuuk and Sisimiut Kulturhus in Sisimiut) where the piece was very well received and had a strong response from audiences. In 2015 "NOMADIC WOMAN" was nominated for the prestigious prize "Splendor Gedanensis" and in 2017 it won the 2nd audience prize at the Festival Pestka in Jelenia Gora. In 2017 "Nomadic Woman" was presented in Pirka Kotan Ainu Cultural Centre in Sapporo within the framework of the International Conferece on Ethnic Minorities organised by prof. Hiroshi Maruyama. This time the piece integrated two Ainu artists (Utae Ehara, Tsugumi Matsudaira) into the structure of the performance and they performed together with Amareya Theatre in Sapporo and in Tokyo. This cooperation will have its continuation in October 2018 when "Nomadic Woman" will be performed with two Ainu artists (Utae Ehara, Tsugumi Matsudaira) at the International Conference devoted to the Polish ethnographer - Bronislaw Pilsudski's research on Ainu that will be held in the Manggha Museum of Japanese Art and Technology in Cracow. For more information visit: https://www.louisefontain.com/
Sigthrudur Gudmunsdottir
Since 2006, Sigbruour has been the Director of the Women´s Shelter's Association in Iceland and thereby the Director of the only crisis shelter for women victims of domestic violence in Iceland, located in Reykjavík. In her work she gets to know "some of the bravest and most resilient women I have ever met and their stories have encouraged me in the work against violence in intimate relationships." One of our projects at the moment is building a house with small apartments where women victims of violence and their children can start a new life after they leave the shelter. Also, inspired by the children in the shelter we try raise awareness on the reality of children living in violent homes among politicians, teachers and youth workers. Education in sociology, teaching and positive psychology. Former teacher and social director in West Iceland.
Liisa Holmberg
Liisa Holmberg is a Sámi film maker, originally from the Finnish side of the Saamiland. She is also the Rector of the Sami Education Institute and Director of the International Sami Film Institute. Liisa has worked in the film business for over 20 years -- as a producer, production manager and film consultant. An important part of her work has been the annual Skábmagovat Film Festival which has been held every January since 1999. The festival's aim is to showcase Sámi, as well as other indigenous films, which describe the complexity of modern and traditional ways of living in indigenous societies today. She was also a part of the establishment of the International Sámi Film Institute in Kautokeino, Norway, in 2007.
Marina Kalinina
Marina Kalinina has been professionally involved in cross-border cooperation in the North since 1993, when she was appointed the lead of the Norwegian-Pomor University Centre in Arkhangelsk. In her current position as NArFU` Rector`s Advisor for international cooperation, Dr. Kalinina is engaged in the internationalization and modernization of higher education, international cooperation in the North, as well as strategic development and capacity building. Previously, she was NArFU`s Vice-Rector of International Cooperation (2010-2016). Following her appointment as the UArctic Vice-President Interregional Cooperation in 2014, Kalinina provides strategic leadership to ensure that UArctic activities remain circumpolar and inter-regional. Under her direction, the UArctic Research office actively promotes UArctic in Russia. Kalinina's professional and research interests include the transformation of higher education, academic regional cooperation in the North as well as science diplomacy, democracy and gender.
Paula Lehtomäki
Ms Paula Lehtomäki has held the position of State Secretary at the Prime Minister's Office since July 2015. As State Secretary, she directs the functions of the Prime Minister's Office, assists Prime Minister Sipilä in the implementation of the Government Programme and is responsible for cooperation with the ministries. She also coordinates the preparation of policy matters; for example, she is the chair of Government steering group for the Baltic Sea region and integrated maritime policy. Further, Lehtomäki chairs the Arctic Advisory Board, which is a key body in cooperation on Arctic policy issues. Previously, Lehtomäki served in the Finnish Government as Minister of the Environment in 2007–2011 and Minister for Foreign Trade and Development in 2003–2007. From 1999 to 2015, she was a Member of Parliament representing the Centre Party of Finland. Lehtomäki holds a Master of Science in Economics and Business Administration and a Bachelor of Social Sciences. She is married and has three children.
Sara Olsvig
Sara Olsvig is the leader of Inuit Ataqatigiit; a member of Inatsisartut, the parliament of Greenland; the former Vice Premier and Minister of Social Affairs, Families, Gender Equality and Justice. Olsvig has also been member of the Danish parliament representing Greenland. Olsvig was the Chairperson of the Standing Committee of Parliamentarians of the Arctic Region from 2013 to 2014.
She is currently a member of Inatsisartut's Foreign Policy and Security Committee, The Committee of Finances and the Committee of Business and Mineral Resources. Olsvig has a master's degree in anthropology and worked as Coordinator of Human Rights Issues for ICC Greenland and as an Executive Director for the Inuit Circumpolar Council (ICC), Greenland. Sara has two children, Navarana and Uno, and lives in Nuuk with her partner Johan Rosbach.
Dr. Katarzyna Pastuszak
Katarzyna Pastuszak is a dancer and the artistic director of Amareya Theatre & Guests (Gdansk, Poland); an academic teacher and researcher (University of Gdansk); curator of Gdansk Dance Festival (2009-2014) and Butoh Festival in Gdansk; and honourable member of the Gdansk Culture Council (2009-2014). In 2014, she published her PhD dissertation titled Hijikata Tatsumi's Ankoku butō – the Theatre of the body-in-crisis. In 2015, she was nominated for the prestigious "Splendor Gedanensis" prize for her direction of "Nomadic Woman", a performance developed with Inuit Louise Fontain and circulating around her story of deportation from Greenlnad to Denmark. Directed by by Pastuszak, "Nomadic Woman" was preformed at the Greenland National Theatre in Nuuk and Sisimiut Kulturhus Greeland, where it raised a large debate on Inuit deportation. In 2017 "Nomadic Woman" was presented at the International Conferece on Ethnic Minorities in Pirka Kotan Ainu Cultural Centre, Sapporo, Japan. This cooperation will continue in October 2018, when "Nomadic Woman" will be performed at Manggha Museum of Japanese Art and Technology in Cracow with two Ainu artists for an International Conference devoted to the work of Polish ethnographer Bronislaw Pilsudski on the Ainu.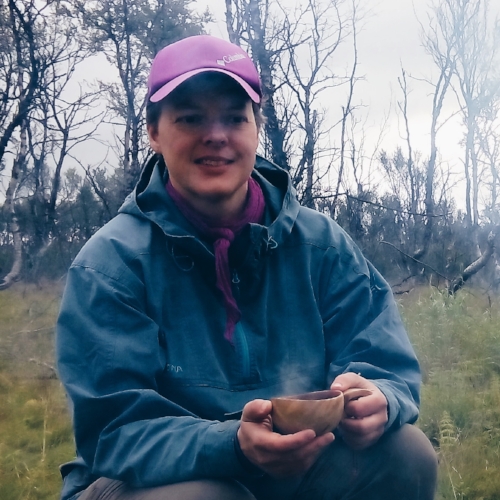 Gunn-Britt Retter
Gunn-Britt Retter lives in the coastal Sámi community of Unjárga-Nesseby, north-eastern Norway. She is a teacher of training at the Sámi University of Applied Sciences and holds an MA in Bilingual studies from the University of Wales. Since 2001, Gunn-Britt has worked with Arctic Environmental issues, first at the Arctic Council Indigenous Peoples' Secretariat (IPS) in Denmark, and since 2005 in her present role as the Head of Arctic and Environmental Unit at the Sámi Council. In her current position, Gunn-Britt is involved in issues relating to indigenous peoples and knowledge associated with climate change, biodiversity, language, pollution and the management of natural resources.
Ylva Sjöberg
Ylva's focuses on the movement of water through landscapes with permafrost in Scandinavia, Greenland and Alaska. Using field measurements and computer simulations, Ylva studies how groundwater, streams and lakes are affected by climate-driven permafrost thaw and what changes we can expect in these systems in a warmer future. Networks for early career researchers, such as the Association for Polar Early Career Scientists and the Permafrost Young Researcher Network have provided invaluable support throughout her studies and career. Through these organizations, she has been involved in several interdisciplinary projects and gotten to know young female researchers from around the world, most of them living and working in the Arctic. These are the people who inspire her and show her that tomorrow's scientists will be a diverse and creative collective, engaged to provide sustainable solutions for the challenges facing the Arctic.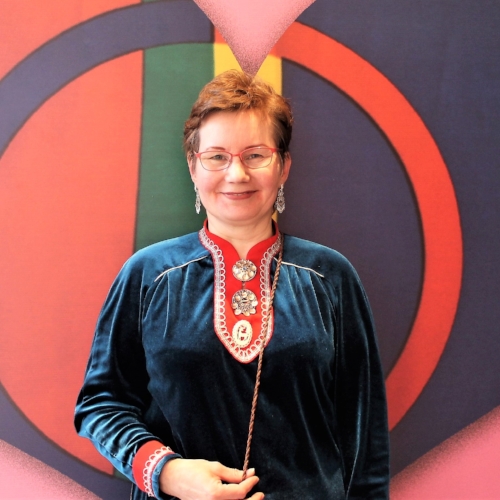 Valentina Sovkina
Valentina Sovkina is the Speaker of the Saami Parliament of the Kola Peninsula (Kuellnegk Nyoark Sam' Sobbar), an elective legislature of the Saami ethnic group. She has a long record of advocating for Indigenous Ethnic Groups in the Arctica after graduating from the Murmansk Pedagogical School. From 2008-2009, she was an Expert on Indigenous Ethnic Groups' Affairs at the Tundra Agricultural Production Cooperative. She followed this appointment as a Member of a Working Group on Indigenous Ethnic Groups at the Barents Euro-Arctic Council. In 2012, she became the Director of the Kola Saami Radio Co. Ltd. and still currently holds this position.
Speakers.